Remembering Tammy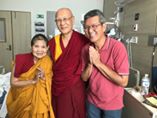 Our very dear friend and Khensur Rinpoche's long time student Tammy (Tam Thi Le; Ven. Gyaltsen) died in the early hours of Tuesday morning (13/8) from brain cancer. We will miss her!
These are pics from Tammý's ordination in December last year, and from Sera Je Monastery on Thursday (15/8) where 150 lamas and geshes performed a purification practice for her, and others who had died.
Tshering, who is currently in India with Khensur Rinpoche, explains how it came about:
I brought Tam's hair with me in case she died while we were here; when we cut it for her ordination Rinpoche had told me to keep some for jang-wa (purification practice) after she died.
One of Rinpoche's nephews arrived here at lunchtime, which reminded me that Rinpoche was going to ask him about having the jang-wa done at Gyü-me. Then Geshe Tsewang Tobden (one of Rinpoche's students) came in and said all the Sera Je geshes and lamas would be doing jang-wa at 2 o'clock today!
Tam's good fortune has been incredible; it's quite amazing. I was able to make offerings for her; 50 Rs each to an assembly of about 150 lamas and geshes, sponsored by Rinpoche. Her hair and her name will be burned afterwards. Then she'll go to the pure land I'm sure!
The morning she passed away, 280 monks from Dzongkar Choede Monastery performed a puja and special prayers for Tammy, and because the Ganden Tripa was visiting Sera Je, many of the young geshes were there, and they also made prayers for Tammy and Jason.
Back home on the coast, relatives and friends set up an altar for Tammy, and in Brisbane Tara did 100 prostrations and dedicated the merit to Tammy.