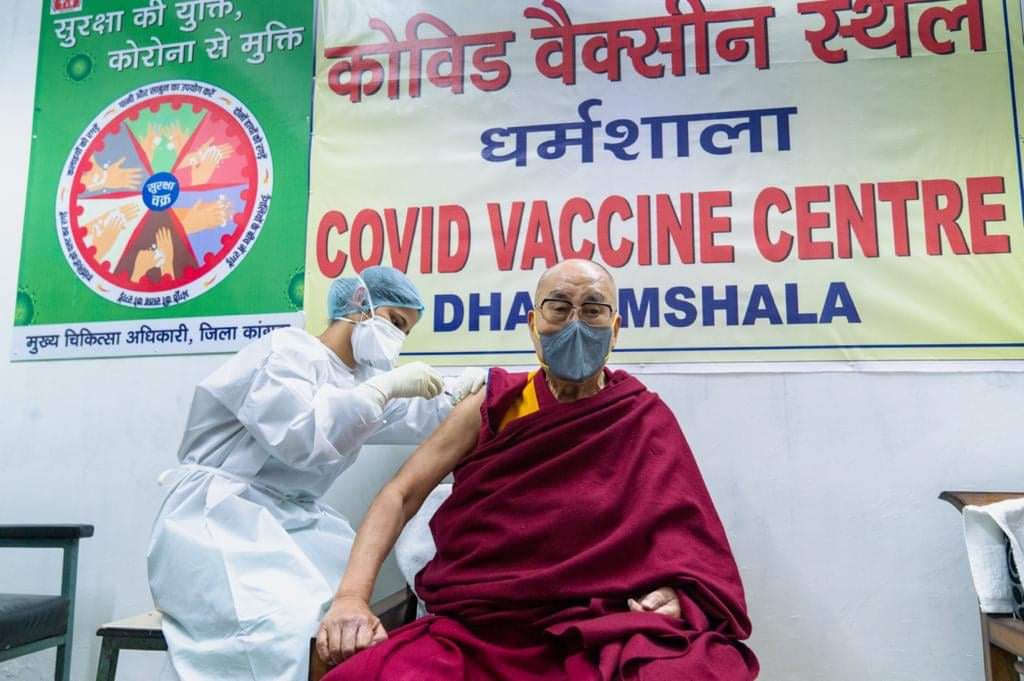 His Holiness the Dalai Lama receiving his vaccination in Dharamshala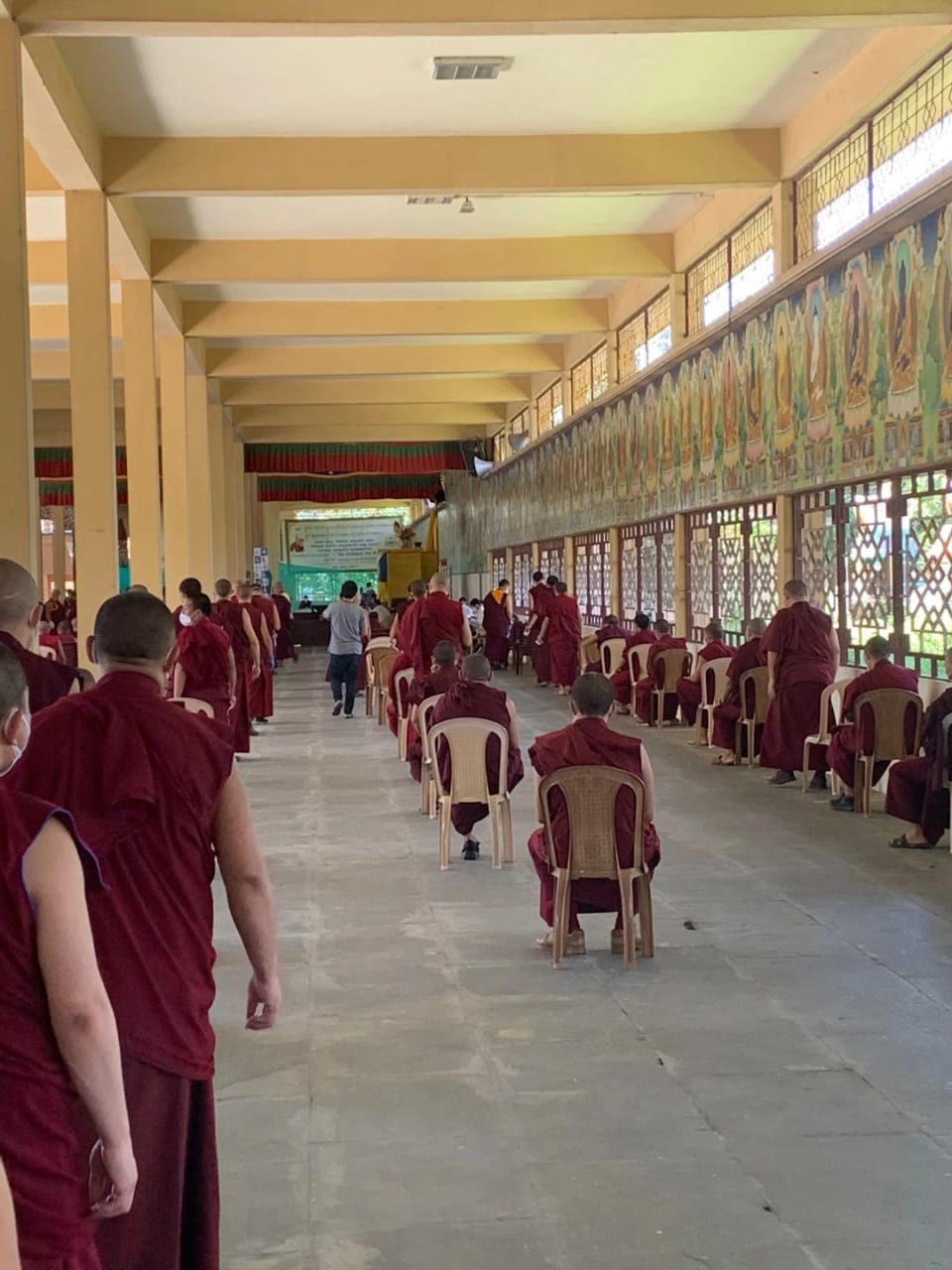 Vaccinations for Sera Je Monks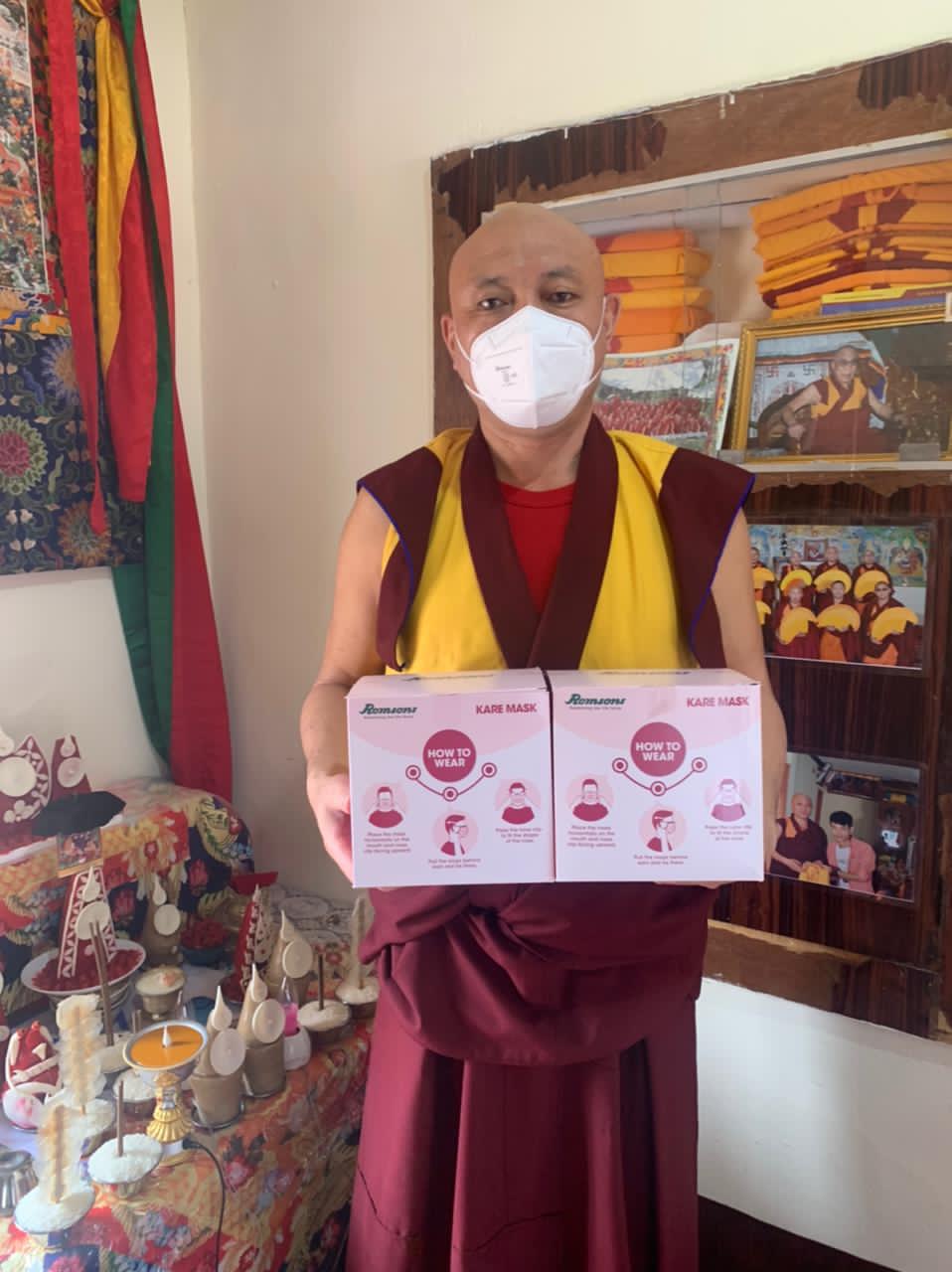 Face masks donated by a generous sponsor
How Covid-19 is Affecting Monks at Sera Je Monastery
The last 18 months have certainly been difficult for us all, both here and overseas.
All the monks at Sera Je Monastery in South India have been in varying degrees of lockdown since March last year. Due to the restrictions, our normal mail correspondence has ceased and under current lockdown rules, there have been no assemblies for pujas, communal gatherings for teachings and no outings (unless approved).
Because assemblies are not allowed, the monks no longer gather for morning prayers, which is the time they would normally be offered tea and bread from sponsors.  There would also be a small money offering for each of the monks.  This offering, together with your kind sponsorship, enables them to purchase robes, items for study, medicines and other health items, and, if possible, they put a little aside to attend teachings with His Holiness Dalai Lama etc.  
We recently chatted with one of the monks who helps manage and look after distribution of funds to the sponsored monks.
In general how have the monks managed during the extended lockdown?
During the lockdown we need to stay in our own room for study and prayers; there has been no puja and no debate class. As the monastery's main kitchen has been closed, they supply rice, flour, dahl and sunflower oil every three or four weeks so we can cook for ourselves.  The monastery has been divided into three sections, and representatives from each section are allowed to go outside to purchase vegetables, etc two days per week. 
What are the current lockdown rules at Sera Monastery?

We are totally closed. The Sera Je shop was previously open only a few hours in the morning and evening, but it's now closed. We have not been able to go outside to Kushal or First Camp since March 2020.
Have many of the monks been vaxinated?
All our monks aged over 18 have been vaccinated with the Indian vaccine COVAXIN.

What happens if monks get sick; can they be treated at Sera?

If a monk becomes unwell they are first treated in the monastery clinic.  If their condition worsens, they will go outside to hospital, for example to First Camp Tsojee Hospital or Mysore Hospital.  In general, Sera Je Health Clinic advises that only severely ill people go to the clinic, where they currently have eight Covid patients undergoing treatment.  There have been deaths from amongst the monk's community.
How are the monks able to study?  How do they receive instructions?
The monks studying at Sera Je school are taking online classes, while other monks at the monastery study by themselves, for example by listening to recordings of last year's teachings.
In general how does the money sent from sponsors help?
It is fabulous! Although meals are supplied by the monastery, monks can save their sponsorship money for other things like going to teachings with His Holiness the Dalai Lama, and for buying other necessities like clothing. It really is essential for all those simple monks.  Please tell the sponsors thank you from us all; their help is so important.  We pray every day for their good health and long life.