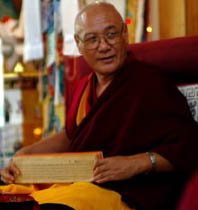 Follow this link for the programme of Geshe Tashi Tsering's April 2013 visit to Australia!

Geshe Tashi Tsering is a highly respected Tibetan teacher, in the Gelug tradition founded by Lama Tsong Khapa. He is currently the Abbot at Gyü-me Tantric College in southern India, where he holds the title 'Khen Rinpoche'. He took up the role of lama um-dze (vice-abbot) on 2 April 2009 at the request of His Holiness the Dalai Lama. This is a six-year appointment, first as lama um-dze and then as Abbot of the College. His many students were overjoyed at Geshe Tashi Tsering's qualities being recognised in this way.

Gyü-me is one of the primary monastic universities in the Gelug tradition, a place of further training for those monks from the Gelug monasteries who have already been awarded their geshe degree.

Geshe Tashi Tsering lived and taught in the West for many years before his return to India in 2009. He was the resident teacher at Chenrezig Institute in Queensland, Australia, from 1990, where he implemented and was primary teacher of an extensive study programme of Buddhist philosophy and practice which offers a unique opportunity in the West for high-level study of classic topics of Tibetan Buddhism. A diverse and committed student body developed, attracting nuns and monks from around the world. The BSP continues under the guidance of Geshe Tashi Tsering's student, Geshe Lobsang Jamyang, who is assisted by senior Western students.

Geshe Tashi Tsering has hundreds of students around Australia, New Zealand, and Taiwan, as well as in India and Tibet, who have been inspired by his personal qualities and great knowledge and wisdom. His experience with Western students and living in the West has given him great insight into Western thinking and circumstances.

Geshe Tashi Tsering (now in his 70s) has devoted his life to studying and practicing Buddhism and to conveying the essence of the Buddha's teachings in clear, accessible, and powerful ways. He draws from an unbroken lineage of authentic teachings and presents them in a way that is relevant and highly meaningful to modern life. (Read Geshe Tashi Tsering's biography here.)

The Good Fortune Trust website has details about the projects and people Geshe Tashi Tsering supports in Tibet and India.
News

[Mar 2013] April 2013 Visit to Australia

---
[Sep 2011]Latest News

---
[30 Jun 09] India & Taiwan

[20 Dec 07] Three months in Tibet


News Archive
[Updated 20 Dec 06] Prayers and practices for students

[04 Jul 07] Geshe-la and His Holiness

[13 Feb 07] Details of Geshe-la's recent activities and Lozang Zopa's farewell

Sign-up
Contact us if you'd like to receive occasional email with news of Geshe-la and the activities of the Good Fortune Trust